Mobile ladder with platform NV 3541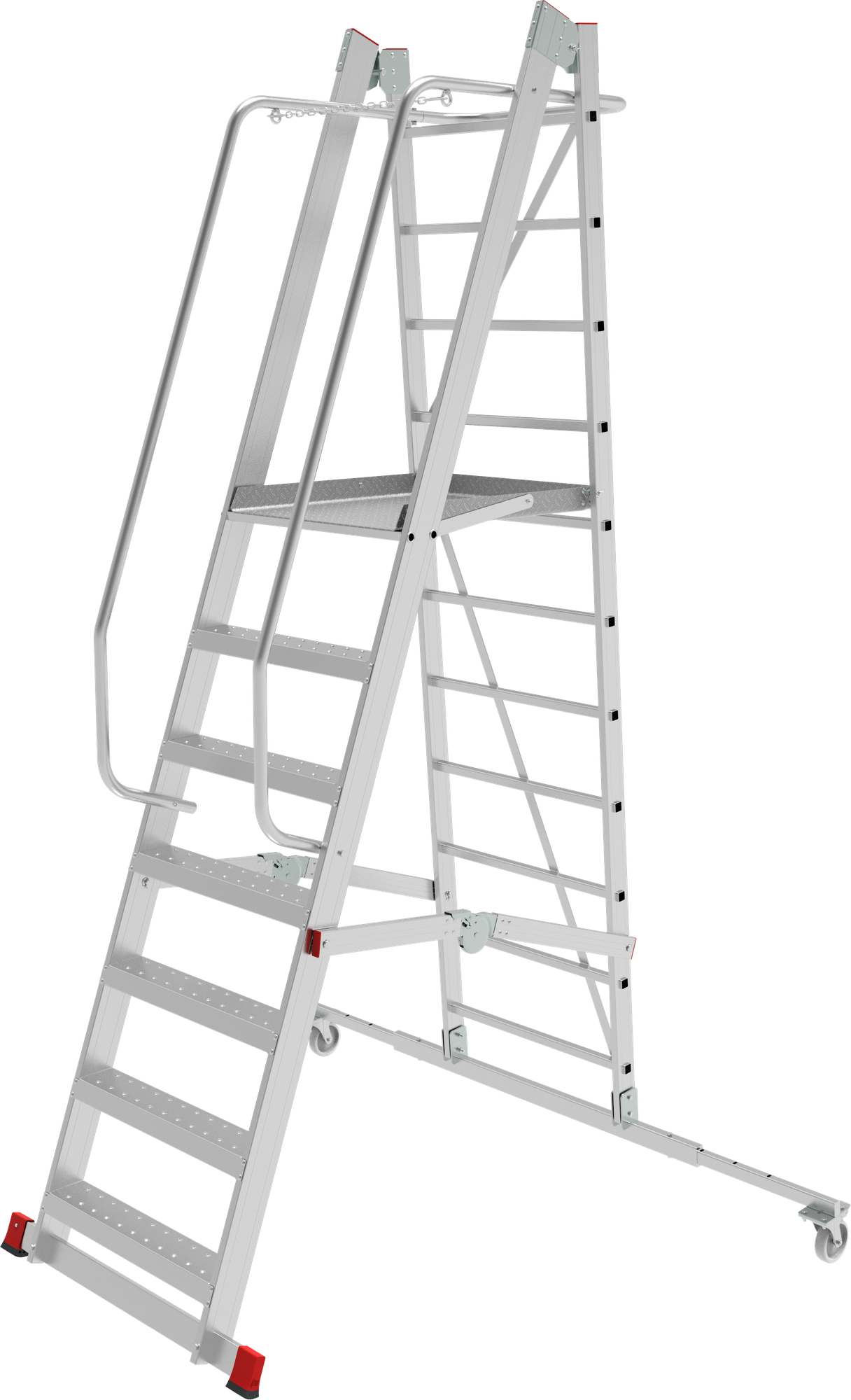 Specification
Description
One-sided folding aluminum ladder with a platform
For internal and external works.
High strength and reliability with light weight.
Work platform 620×730 mm with a corrugated surface.
A platform with a three-sided fence and handrails on both sides of the ladder.
Platform height 1.39–3.9 m.
Racks, handrails and traverses from extruded aluminum profiles.
Corrugated steel steps for safe ascent and descent.
Folds compactly for storage and transportation.
When folded, it takes up little space.
It is equipped with 100 mm wheels on the front side for ease of movement.
The support lugs-traverses of a traverse from strong two-component plastic provide a stable position.
Conforms to GOST (Russian National Standard) 24258−88.
| Sku | Steps | А, m | В, m | С, m | D, m | E, m | F, m | G, m | H, m | K, m | L1xL2, mm | M, m | N, m | P, m | Weight, kg | |
| --- | --- | --- | --- | --- | --- | --- | --- | --- | --- | --- | --- | --- | --- | --- | --- | --- |
| 3541105 | 5 | 1.44 | 2.7 | 2.1 | 0.58 | 1.38 | 0.28 | 0.81 | 2.76 | 1.05 | 620×730 | 0.77 | 2.8 | 0.3 | 42.4 | |
| 3541106 | 6 | 1.57 | 2.93 | 2.1 | 0.58 | 1.67 | 0.28 | 0.81 | 3.09 | 1.05 | 620×730 | 0.77 | 3.1 | 0.3 | 45.6 | |
| 3541107 | 7 | 1.68 | 3.18 | 2.1 | 0.58 | 1.92 | 0.28 | 0.81 | 3.37 | 1.05 | 620×730 | 0.77 | 3.38 | 0.3 | 48.5 | |
| 3541108 | 8 | 1.8 | 3.44 | 2.1 | 0.58 | 2.18 | 0.28 | 0.81 | 3.64 | 1.05 | 620×730 | 0.77 | 3.65 | 0.3 | 51.4 | |
| 3541109 | 9 | 1.93 | 3.73 | 2.1 | 0.58 | 2.47 | 0.28 | 0.81 | 3.95 | 1.05 | 620×730 | 0.77 | 3.96 | 0.3 | 55.8 | |
| 3541110 | 10 | 2.07 | 4.05 | 2.1 | 0.58 | 2.79 | 0.28 | 0.81 | 4.29 | 1.05 | 620×730 | 0.77 | 4.3 | 0.3 | 59.1 | |
| 3541111 | 11 | 2.2 | 4.33 | 2.1 | 0.58 | 3.07 | 0.28 | 0.81 | 4.59 | 1.05 | 620×730 | 0.77 | 4.6 | 0.3 | 62.1 | |
| 3541112 | 12 | 2.33 | 4.61 | 2.1 | 0.58 | 3.3 | 0.28 | 0.81 | 4.89 | 1.05 | 620×730 | 0.77 | 4.9 | 0.3 | 65.1 | |
| 3541113 | 13 | 2.45 | 4.89 | 2.1 | 0.58 | 3.64 | 0.28 | 0.81 | 5.2 | 1.05 | 620×730 | 0.77 | 5.2 | 0.3 | 68.1 | |
| 3541114 | 14 | 2.57 | 5.17 | 2.1 | 0.58 | 3.92 | 0.28 | 0.81 | 5.5 | 1.05 | 620×730 | 0.77 | 5.5 | 0.3 | 71.1 | |
---
Related items